I was inspired to put this on the blog after watching the introduction of the Latino Legends baseball team before the last game of the World Series the other night.
I have been thinking about this for a long time.
All of these guys qualify because they have names that are just as suitable for girls as they are for boys and they are hall of famers.
Being in the hall of fame was the only playing requirement. After that it was the non-gender-specific quality of their names that got them on the list.
Please let me know if you have any suggestions.
Catcher
Gabby Hartnett
Connie Mack
Connie Mack is in the hall of fame as a manager and all-around baseball legend. When he played he was a catcher.
First Base
Lou Gehrig
Second Base
Nellie Fox
Third base
Brooks Robinson
short stop
Robin Yount
Outfield
Babe Ruth
Kiki Cuyler
Chick Hafey
Pitchers
Christy Mathewson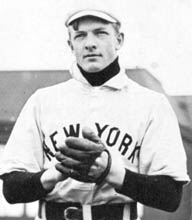 Jesse Haines
Sandy Koufax